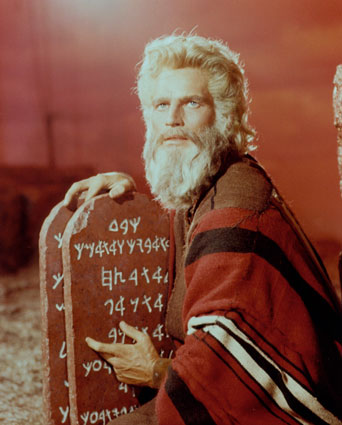 I apologize in advance. This is not so much a blog as a call to action. Over the next few months, I'll be compiling a list of my cleverly titled 10 Commandments For Talking to Kids About God. And I'm eager to get your input.
I'm not going to lie to you, I've got 10 commandments lined up and ready to go. But they're not — ahem — set in stone. (Sorry. Lame.) So, before it's too late, please write and share with me your own, personal commandment(s): your best advice for introducing children to the concept of religious belief. It may be an overriding philosophy or a set of specific suggestions. Are there definite Dos and Don'ts in your mind? What are they? Have they changed over the years? Why? (Bonus points if you've put your commandment or commandments into practice and been successful. Double bonus points if you tell me how in the hell you were able to define "success" in this context.)
Because I'm a slave to pop culture, I'm planning to give away three copies of Richard Dawkins' The Magic of Reality: How We Know What's Really True to those with the best answers. Did you hear that, Twitterers? I said #giveaway!
Write a sentence, a paragraph or an essay. The length doesn't matter; only the idea.
See you at Mt. Sinai!