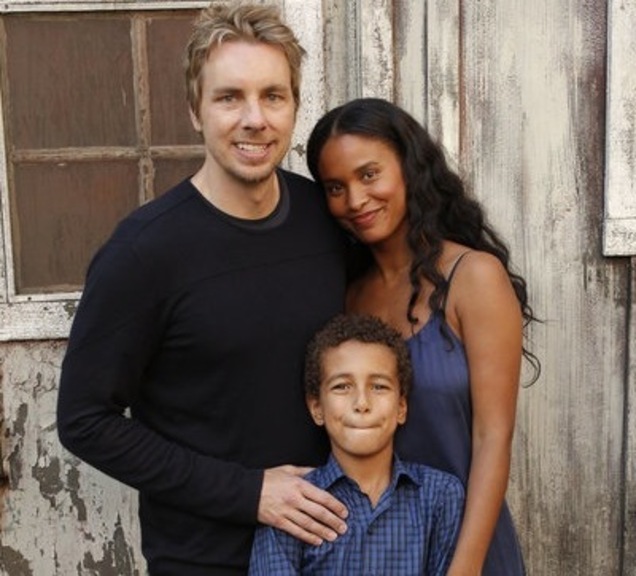 Any Parenthood watchers out there? A couple of weeks ago, the NBC series aired an episode involving a nonreligious couple who discovers their young son praying at his bedside, which leads them to confront the issue for the first time — not only with their son, but also with Grandma (who has, of course, inspired the prayer) and with each other. The story arc rings very true, and I was thrilled to see the discussion come up on Prime Time.
If you're interested, you can stream the episode on Netflix. The story line starts in earnest at 9:45 and picks up again at minutes 17, 20, and 39. If  you don't mind ads, you also can watch it here:
Here's my synopsis:
Surprised by their son's newfound spirituality, Jasmine and Crosby Braverman (played by Dax Shepard and Joy Bryant) decide to broach the subject with Jasmine's mother after dinner one night.
"Mom," Jasmine says, "we noticed that Jabbar has been praying,"
"That's wonderful!" exclaims the mother.
And so it begins.
The grandmother freely admits to introducing the boy to God, heaven and prayer, and seems shocked to hear that Jasmine and Crosby haven't taken up the topic themselves already. The conversation sets in motion some back-and-forth between the couple over what they believe and whether it's important that their son believe the same thing. Both are nonreligious, but — as it turns out — not on exactly the same page. Jasmine believes in God, and thinks their son should be able to explore religion because "it was a comfort" to her when she was a child. "It wasn't about God, or even church," she tells her husband. "It was about community."
But Crosby wasn't raised to be religious ("C'mon, geez, we gave you baseball," his own father, played by Craig T. Nelson, offers at one point) and he doesn't particularly want Jabbar to be, either.
"If you don't have that belief you're not going to be a part of that community," he says. "And I don't want my son to be a part of some club I'm not a member of. I mean, maybe that's a little selfish, but..."
"Maybe a little?" the wife interjects
"Maybe a little," he admits.
In the end, Crosby decides to tell his son a bit about his own beliefs in a way that complements the grandmother's religion, rather than undermining it — which is some darn good role-modelling right there. My only complaint is that I wanted more. "The Talk" was far too brief for my taste. I wanted to hear what came next.
But, you know, I'm totally biased. I wish everyone would talk about this stuff more.